Viewing Prophecy
| | | |
| --- | --- | --- |
| | The Collapse and Remaking of the Tech Giants | Print |
Posted On June 14th, 2021
AKA: The Collapse of the Tech Giants, The Remaking of the Tech Giants
Status:
&nbspPending: 4
&nbspIn Progress: 5
&nbspPartial Fulfillment: 1
&nbspFulfilled: 2
Summary: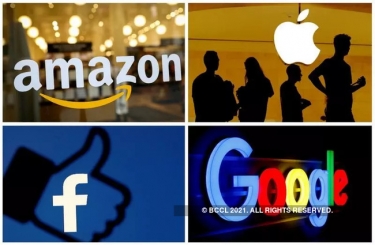 This prophecy is related to the Remaking of the Media, Global economic Reset, and the SuperNatural Transfer of Wealth to the Righteous prophecies, and speaks of the collapse of the big tech companies, such as Amazon, Google, Facebook, Twitter, and all the other big tech media who have previously supported Abortion, and the murdering of children. They will collapse, and come to nothing, literally going to zero value, with zero wealth, and all of the money they possess will go to the righteous to push forward God's kingdom. Also, some will not completely go away, but will be remade, or they will become so small as to be insignificant in the grander scheme of things.
---
(*Do you have a better description, or did you find an error?
Please let me know.
Thanks*)
Supporting Verses: None
Teachings and Explanations:

None
Source Keys:

Prophecy Type: Unknown:

Prophecy:

Vision:
Dream:

Prophecy Status:
&nbspUnknown (U)
&nbspPending (P)
&nbspIn Progress (IP)
&nbspPartial Fulfillment (PF)
&nbspFulfilled (F)
&nbspDebunked/False (D)
Proofs and Sources: (12)

**Proofs and Fulfillments can now be found under the individual source entries above.**
Keywords: Wealth, Riches, Big Tech, Death, Destruction, Bankruptcy, Fall, Collapse, Judgment, Remaking
Last Updated:
Wednesday, March 22nd, 2023 at 5:40am