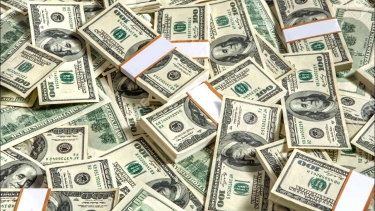 The general summary of this prophecy is this. God, at some point in the near future, is going to create a massive wealth transfer, the greatest in all of history, from the wicked and evil, both men and nations, to the righteous believers in Christ around the world. The premise of this is NOT some prosperity gospel thing where God is going to make you rich just for the sake of making you rich. That's heresy. The purpose of this transfer is to fund the coming super revival that will sweep the entire world, that is also known as the Third Great Awakening. God will supernaturally take the riches from the wicked and evil, and give it to the saints. However, there's a catch.
Not every Christian is getting this money. And not every righteous nation is either. God is only going to give it to people who will selflessly, and properly use it for the kingdom, for His purposes, wherever God tells them to use it, and in whatever quantity, even to the entirety of their substance. Those who will use this money selfishly on themselves WILL NOT be given anything in this wealth transfer. Unlike how the prosperity gospel thinks and operates, where they spread the lie that God wants you rich for no other reason than to be rich, and to enjoy "the good life", those that are given these riches will be those who have proven themselves willing and cheerful givers, who do not see that money as their own, but will gladly give whatever amount that God tells them to give, and wherever He tells them to give it.
In a way, this prophecy is part of the Global Economic Reset where God will reset the world's economies, and reset/transfer wealth to where He wants and needs it, to bring in the final harvest of souls before the Tribulation. Those that will see the windfall of this wealth transfer will be those God has prepared ahead of time, and whose hearts are ready to serve God with whatever amount God should choose to give them. Those who are not prepared ahead of time, with the right heart, and the right spirit, will not be a part of this. In some cases they may be the ones who have their riches taken away, as they are bent on wasting that money on their own selfish lusts rather than pushing forward the agenda of God, which is to save souls.
---
(*Do you have a better description, or did you find an error?
Please let me know.
Thanks*)