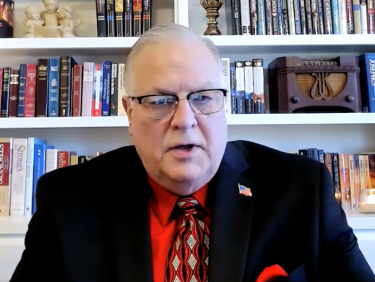 From NationalWarCouncil.org:
With a divine vision for the NWC, Jim has God?s heart for our nation. After serving in the Marine Corps, Jim experienced his ?new birth? in Christ in 1976. He has a background in ministry, mission trips and the marketplace holding an MBA in International Finance and Management. As a servant leader, he is used in business and civic organizations as a gifted teacher, mentor and coach. In 1984 Jim was on the ticket with Regan/Bush, and after nearly beating an entrenched incumbent, the Republican National Committee and State of Louisiana party leadership appointed Jim the District Chairman of the GOP. Since that time, He has helped to elect individuals to political offices at the municipal, state and federal levels. As a prophetic/seer, he moves in the power of the Holy Spirit through teaching, discernment, words of knowledge and deliverance. Jim counts his wife and son as his greatest and most precious gifts.
---
(*Do you have a better description, or did you find an error?
Please let me know.
Thanks*)