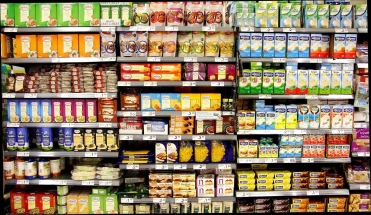 This prophecy is kind of an odd one, but basically what it's saying is that, due to lots of scares caused by tons and tons of food recalls, due to disease or poisoning of the food, nobody will know what's safe to eat and what's not, and thus they will starve because they will be too afraid to eat the food that's available to them because they're afraid to be poisoned or infected. So it won't be an actual shortage of food, as there will be plenty of it out there to be had. It's just that nobody will want to buy it for fear of it being poisoned. Eventually there will be a real famine where there actually won't be enough food to be had. However, in this particular prophecy there's famine in the midst of bounty.
Edit (2020-02-05): I'm seeing a bit of a pause in the fulfillment of this prophecy, so its status is being set to "partial fulfillment" until more significant forward motion on its fulfillment resumes.
---
(*Do you have a better description, or did you find an error?
Please let me know.
Thanks*)