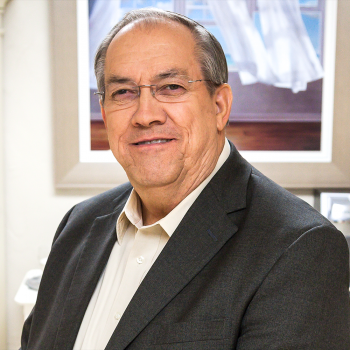 From the End Time Ministries Website:
Irvin Baxter is the founder and president of Endtime Ministries. He is a television and radio talk-show host, author, publisher, and international prophecy teacher. Irvin felt God call him to start traveling as an evangelist at the age of 19. He began pastoring when he was 26, and continued for 34 years until he made the decision to devote all of his time to Endtime Ministries. Endtime Ministries focuses on explaining world events from a biblical perspective. The ministry's purpose is to prove that we are now at the end of the era of human government and very near the beginning of the prophesied Kingdom of God.
Irvin authored A Message for the President in 1986. In the book, he identified for the first time the United States, Great Britain, Russia, and other modern nations in the Bible. He also stated that the Berlin Wall would be torn down; East and West Germany would be reunited; and that these events would be the catalyst that would propel the world into the New World Order. The Wall did come down in 1989, and we have continually heard about the New World Order ever since. Publication of Endtime magazine began in 1991 and has now become the most widely circulated prophecy magazine in the world. Irvin designed, authored, and published Understanding the Endtime in 1995. This popular series was updated in 2011.
Irvin Baxter is the host of his 20-year-old radio talk show, live webcast and television program, End of the Age, which currently airs on TBN, Daystar, Church Channel, TCT, Word Network, METV, WHT, FETV, CTN AND WACX and many AM and FM radio stations. He regularly conducts prophecy conferences throughout the United States. In March 2006, Irvin Baxter launched the "No National ID" campaign to make people aware of the dangers of "The Real ID Act" which President Bush signed on May 11, 2005. This topic was discussed in detail in the May/June 2006 edition of Endtime magazine. As a result of these and other efforts, the implementation of the "Real ID Act" has been postponed several times and is now scheduled to be fully enforceable nationwide by 2017.
Irvin launched The Israel Project in 2013 which now encompasses, The Ram Bam Hospital, Another Jewish Holocaust Ahead!, our Emergency Magazine Mailer to Israel, America's God-Given Destiny and then founded the Jerusalem Prophecy College on Jaffa Street in downtown Jerusalem in 2013. He made the decision to make it available online to everyone last year and now has over 200 students attending. He has appeared on HBO, Discovery Channel and CNN, and has been interviewed by Cloud Ten Pictures, The Washington Post, The History Channel and Associated Press. He's been a frequent guest on Daystar with Marcus and Joni Lamb, TBN's Praise the Lord with the late Dr. Paul Crouch and Coast to Coast with George Noory.
Irvin and his wife, Judy, have three children, eight grandchildren and three great-grandchildren. They reside in Richardson, Texas. Irvin Baxter Jr. died from COVID-19 complications on Nov. 3, 2020. He was 75.
---
(*Do you have a better description, or did you find an error?
Please let me know.
Thanks*)