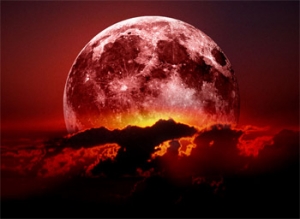 The Blood Moon Tetrad prophecy, as originally given by Mark Biltz, and later expanded by John Hagee, details a series of 4 blood (fully eclipsed) moons occurring over a 2 year period that fall one right after another on Jewish feastdays. Namely Pentecost and Feast of Trumpets. It's claimed that every time this tetrad has happened (a total of 7 times since Christ's birth) they have preceded or signaled major travail and trouble for the Jewish people. Proponents of this prophecy say it is given biblical backing and validity via Matthew 24:29.
However this is held greatly in question as the verse itself speaks of and correlates directly with the second coming as spoken of in the book of Revelation and others. There's also been controversy over this prophecy and upon further examination huge, unresolvable and gaping errors, issues with the supporting verses, as well as a myriad of other problems have appeared absolutely shredded the credibility and validity of this prophecy as a whole. However, there does seem to be some degree of validity to one portion of it. Namely the 8th and final tetrad. While the others don't line up historically or mathematically, the last prophecy seems to.
There's also been ethical and spiritual issues with its two biggest sponsors, namely Mark Biltz (Hebrew Roots Movement) and John Hagee (Replacement Theology) that further destroy the overall credibility of this prophecy. Again, the overall prophecy, when counting all of the blood moon tetrads, nearly has two feet in the grave. However, the last and 8th tetrad does seem to have some prophetical importance, significance, and validity to it. So while the primary prophecy is pretty dead in its tracks, one would be wise to keep their eyes on the current (8th) tetrad as it may yet yield something important and significant prophetically.
EDIT (2015-08-11): New information has come to light that renders this prophecy invalid as the foundation on which this is based DOES NOT speak of the blood moons, but rather of the side effects of fire and smoke DURING THE TRIBULATION. So this phenomenon, while interesting, is not a valid prophecy as it's unbiblical in its current form.
---
(*Do you have a better description, or did you find an error?
Please let me know.
Thanks*)