Viewing Prophecy
| | | |
| --- | --- | --- |
| | The Border Wall Will Be Built | Print |
Posted On February 20th, 2019
AKA: Trump's Border Wall, The Mexican Border Wall, The Southern Border Wall
Status:
&nbspPending: 1
&nbspIn Progress: 2
&nbspPartial Fulfillment: 1
&nbspFulfilled: 1
Summary: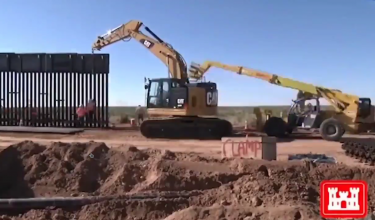 This prophecy speaks of the construction AND completion of the southern border wall along the Mexican border. Lots of people will fight it, but in the end the wall WILL be built, and it WILL protect America from the evil flowing north from Mexico into this nation.
---
(*Do you have a better description, or did you find an error?
Please let me know.
Thanks*)
Supporting Verses: None
Teachings and Explanations:

None
Source Keys:

Prophecy Type: Unknown:

Prophecy:

Vision:
Dream:

Prophecy Status:
&nbspUnknown (U)
&nbspPending (P)
&nbspIn Progress (IP)
&nbspPartial Fulfillment (PF)
&nbspFulfilled (F)
&nbspFailed (D)
Proofs and Sources: (5)

**Proofs and Fulfillments can now be found under the individual source entries above.**
Keywords: Border, Wall, Barrier, Protection, Trump, Mexico, Illegals, Drugs, Cartels, Weapons, Evil
Last Updated:
Saturday, September 30th, 2023 at 12:50pm