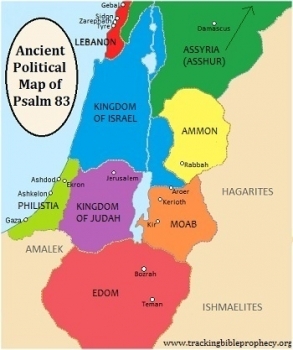 The Psalm 83 war is the first of six end times wars involving the nation of Israel. It began as a war of annihilation in 1948 perpetrated by Israel's immediate neighbors with the intent of wiping her from existence and removing her from being a nation, and ended in 1973 with complete and total victory by Israel with a number of quiet periods of awkward peace in the middle. The list of battles and wars included under the umbrella of the Psalm 83 war include the Israeli war of independence (November 1947 - July 1949), the Reprisal operations (1950s - 1960s), the Suez Crisis (October 1956), the Six-Day War (June 1967), the War of Attrition (1967–1970) and the Yom Kippur War (October 1973).
The list of nations who participated in this war are as follows (modern names included):
Tents of Edom = [decedents of Esau] Palestinian Refugees and Southern Jordanians
Ishmaelites = Saudi Arabians
Moab = Palestinian Refugees and Central Jordanians
Hagrites = Egyptians
Gebal = Northern Lebanese
Ammon = Palestinian Refugees and Northern Jordanians
Amalek = Arabs South of Israel
Philista = Palestinian Refugees and Hamas of Gaza Strip
Inhabitants of Tyre = Hezbollah and Southern Lebanese
Assyria = Syrians and perhaps Northern Iraqis included
Children of Lot = Moab and Ammon
---
(*Do you have a better description, or did you find an error?
Please let me know.
Thanks*)