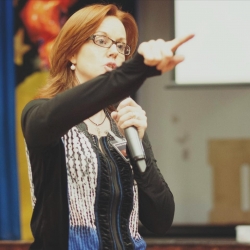 Prophecy:
The Spiritual Rebirth of Canada
Name: Veronika West
Source URL: Click to View
Type: Dream

Status: &nbspPending
In this short Dream I found myself standing before a huge CANADA sign exactly the same as the Hollywood& sign, and in the Dream, I was somewhat confused at first, as my mind raced ahead in the Dream, questioning for a moment if I was reading the sign correctly, as it exactly resembled the famous Hollywood sign that sits high above the land for everyone to see.

But no sooner had I questioned in the Dream what I was seeing, The Spirit of Revelation showed me the reason for why I was being shown, CANADA; as the Hollywood sign, for The Nation of Canada was going to take center stage among The Nations.

Suddenly I saw The Nation being lifted high above the lands, high enough for everyone to see, and I heard these Words, "Watch! For the spotlight of heaven will be upon The Land of Canada and the sound of distinction will be heard that will bring about a dismantling of demonic strongholds and divine exposures to the kingdom of darkness!"