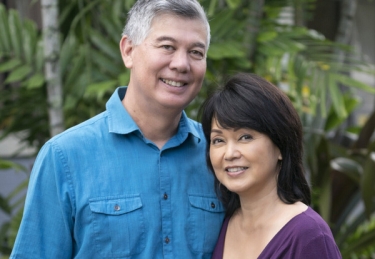 Copied from Elijah Streams:
Rob Gross planted Mountain View Community Church in 1992 in Kaneohe, Hawaii and continues to serve as senior pastor. He is known as a pastor to pastors and has a prayer/counseling ministry known for releasing breakthrough and supernatural healing in people's lives. He has taught workshops and seminars on the gifts of the Spirit, prophetic evangelism, the Sabbath, the orphan stronghold and the Father's blessing. Rob grew up in Kaneohe and is of Jewish and Japanese ancestry. He graduated from Iolani School, earned his bachelor's degree and Phi Beta Kappa honors from the University of Hawaii, and earned his master of divinity degree from Golden Gate Baptist Theological Seminary. Rob and his wife Barbara have three adult sons – Jordan, Brandon and Jonathan – and three grandchildren.
---
(*Do you have a better description, or did you find an error?
Please let me know.
Thanks*)