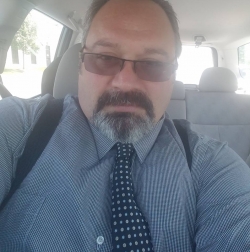 Directly from Marty himself:
Marty Breeden is a retired Police Officer, and has 2 daughters , Mallarie and Mathea and he recently celebrated 25 years of marriage to his wife Diana They live in Virginia. After going CODE BLUE on July 17, of 2015, and then experiencing yet another CODE BLUE within 48 hours, due to going into "Acute respiratory failure " Marty had an encounter with the Lord Jesus during a near death experience where he was told of Christ soon return and to warn the church! Marty feels the Lord has called him into evangelistic ministry and is looking forward to the doors that God will be opening.
---
(*Do you have a better description, or did you find an error?
Please let me know.
Thanks*)