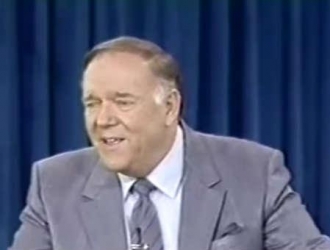 From Wikipedia:
Kenneth E. Hagin was born in McKinney, Texas, the son of Lillie Viola Drake Hagin and Jess Hagin. According to Hagin's testimony, he was born with a deformed heart and what was believed to be an incurable blood disease. He was not expected to live and at age 15 became paralyzed and bedridden. In April 1933 he converted to Christianity. During a dramatic conversion experience, he reported dying, due to the deformed heart, three times in 10 minutes, each time seeing the horrors of hell and then returning to life. He remained paralyzed after his conversion. On August 8, 1934, he says he was raised from his deathbed by a revelation of "faith in God's Word" after reading Mark 11:23-24.
In 1936, he founded his first non-denominational church. He preached his first sermon as the pastor of a small, community Baptist church in Roland, Texas. In 1937, he became an Assemblies of God minister. During the next twelve years he pastored five Assemblies of God churches in Texas: in the cities of Tom Bean, Farmersville (twice), Talco, Greggton, and Van. Van, Texas was the last church he pastored before starting to travel. On November 25, 1938 he married Oretha Rooker. They had two children. Their first child Kenneth Wayne Hagin, known as Kenneth Hagin Jr., was born on September 3, 1939. A daughter, Patricia (Hagin) Harrison, was born 19 months later on March 27, 1941. His son Kenneth Wayne Hagin is currently the pastor of Rhema Bible Church and President of Kenneth Hagin Ministries.
Hagin began an itinerant ministry as a Bible teacher and evangelist in 1949 after an appearance by Jesus. He joined the Voice of Healing Revival in the U.S. with Oral Roberts, Gordon Lindsay and T. L. Osborn between 1947 and 1958. Hagin was given full admission to the Full Gospel Business Men's Fellowship International (also known as the FGBMFI) which had been established in 1951.
---
(*Do you have a better description, or did you find an error?
Please let me know.
Thanks*)