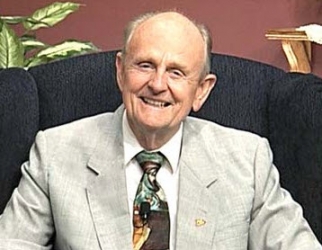 From henrygruver.org:
Henry Gruver is a "Prayer Walker to the World." He started walking with the Lord on the Skid Row streets of Phoenix, Arizona in 1961 at the age of 18, and today he is still walking with God. Known widely for his detailed visions for nations, his ministry has spanned many continents and 54 countries. Wherever his Heavenly Father leads him, he prays. In his own words, he is a "world-walking prayer warrior." "I have an addiction, and I am eager to see God's work, so I do not want to live a comfortable life," he says. In an article about Henry, reporter Liu Weiqun of New Life Taiwan (http://www.newlife.org.tw/) writes:
Over the age of seventy years old, Henry is still vivid and powerful. He was originally a very shy person, but when he decided to give his life to the Lord, God used him to become a warrior of evangelism. 17-year-old Henry was originally a very introverted high school student. One day, he went with his mother to a revival meeting, and on the stage, the man preaching the sermon suddenly asked Henry, "Do you know what God called you to do?" Then he prophesied that he would go to the world to preach the gospel and bring many people to the Lord. "I started thinking that the man was crazy, I was going to be an engineer! And I was so introverted." Henry said jokingly. But he was willing to take a step for God.
Though it was difficult to believe that prophecy would be accomplished, Henry found that God constantly pulled and shaped his life, and he has had the opportunity to speak in front of leaders in many countries for the glory of God. Henry Gruver passed away on Thursday, October 10, 2019, in Scottsdale Arizona, at the age of 77 years.
---
(*Do you have a better description, or did you find an error?
Please let me know.
Thanks*)