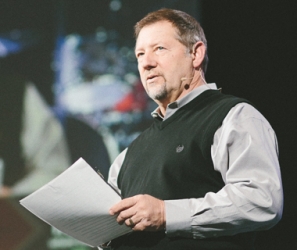 From Reformed Apostles Blog (via google translate):
One of the Apostles members of the International Coalition of Apostolic Leaders (ICAL). President and co-founder of the Dutch Sheets Ministries (DSM), apostolic ministry, prophetic and teaching, aimed at empowering Christians in America and the world. Leads Network Ekklesia International (NEI), a relational network of apostolic and prophetic ministries that are equipping the Church for its true identity as a government legislature.
Married for almost forty years with Pastor Ceci Sheets, he has two daughters (Hannah and Sarah) and a grandson. Dutch and Ceci are graduates of the Christ for the Nations Institute (CFNI) in Dallas / Texas. Ordained to the 23-year-old ministry, Dutch served in CFNI and ministered extensively in Latin America, as in Guatemala during the earthquake of 1974. He is the author of over thirty books, including the bestselling Intercessory Prayer (with more than a million copies sold worldwide), The River of God, Sentinel of Prayer, and The Pleasure of His Company.
They founded Freedom Church in Colorado Springs / Colorado, formerly Springs Harvest Fellowship, which they pastored for eighteen years, until they transferred leadership to Pastors Jayde and Christy Duncan. Under the direction of the church is Freedom Kingdom Enterprises (FKE), a group of ministries that includes Freedom Outreach and Missions, Freedom Mercy Ministries and Freedom Training Center.
Dr. Sheets was a member of the Eagles Vision Apostolic Team (EVAT), led by Drs. Peter and Doris Wagner. He is a member of the Apostolic Council of Prophetic Elders (ACPE), led by Dr. Cindy Jacobs, and the team of apostolic leaders of the Federation of Ministers and Churches International (FMCI). led by the Apostle Jim Hodges. He is an instructor at the Destiny Bible School (founded by Apostle Tim Sheets) and the Wagner Leadership Institute. He serves on the boards of various organizations, including the board of The National Prayer Center, and the leadership of Voice of Awakening, chaired by the Apostle Ken Malone.
---
(*Do you have a better description, or did you find an error?
Please let me know.
Thanks*)