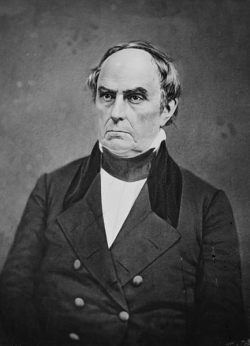 From Wikipedia:
Daniel Webster (January 18, 1782 – October 24, 1852) was an American politician who represented New Hampshire (1813–1817) and Massachusetts (1823–1827) in the United States House of Representatives; served as a Senator from Massachusetts (1827–1841, 1845–1850); and was the United States Secretary of State under Presidents William Henry Harrison (1841), John Tyler (1841–1843), and Millard Fillmore (1850–1852). He and James G. Blaine are the only people to serve as Secretary of State under three presidents. Webster also sought the Whig Party nomination for President in 1836, 1840, and 1852.
Webster was one of the most highly regarded courtroom lawyers of the era. He shaped several key U.S. Supreme Court cases that established important constitutional precedents and bolstered the authority of the federal government. As a senator, he was a spokesman for American nationalism with powerful oratory that made him a key Whig leader. He spoke for conservatives and led the opposition to Democrat Andrew Jackson and his Democratic Party, firmly challenging Jackson's policies in the Bank War. As a diplomat, he is best known for negotiating the Webster–Ashburton Treaty of 1842 with Great Britain which established the Canada–United States border east of the Rocky Mountains. He resigned in 1843, and returned to the Senate two years later. Finally, Webster was a lawyer for the National Bank and said, 'Justice is the great work of Man on Earth'.
Webster was the Northern member of the "Great Triumvirate" with his colleagues Henry Clay from the West (Kentucky) and John C. Calhoun from the South (South Carolina). His "Reply to Hayne" in 1830 has been regarded as one of the greatest speeches in the Senate's history. He wanted to see the Union preserved and civil war averted, and he worked for compromises to stave off the sectionalism that threatened war between the North and the South. Webster's support for the Compromise of 1850 proved crucial to its passage, but the decision was widely unpopular in Massachusetts. Webster resigned as a result, but he was appointed to serve another term as Secretary of State under President Millard Fillmore soon after.
---
(*Do you have a better description, or did you find an error?
Please let me know.
Thanks*)