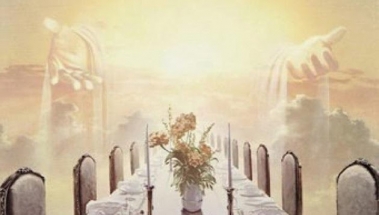 The Marriage Supper of the Lamb (aka Jesus) is an event that occurs at the end of the Tribulation period and the beginning of the Millennium. It doesn't actually occur DURING the Tribulation as many suspect, but actually occurs afterwards. Those who are the "guests" are both the Old Testament saints (Moses, David, Adam, etc) whereas the "bride" is anyone saved during the church age. The reason that this event can't happen during the Tribulation is because, in a traditional Jewish wedding, immediately after the nuptials, the bride and groom are literally hidden away in their own room for 7 literal days.
However, in Jewish literature, an especially in the bible when applied to prophecy, the term "days" can both refer to actual "days", or it can be used in a colloquial form to instead refer to "years". It's not until these 7 days are over that they reappear in front of the guests and the actual feast begins. The church will be sequestered away in Heaven for the 7 years of the Tribulation period in the same way the bride and groom in a traditional Jewish wedding are. So it's not possible for this feast to start until AFTER the Tribulation is complete and the Second Coming has played itself out. Thus it is most likely to start at the beginning of, and ultimately kick off, the 1000 years of the Millennial kingdom. Also, the "10 Virgins" prophecy is related to this. See the above listed teachings for more details on this.
---
(*Do you have a better description, or did you find an error?
Please let me know.
Thanks*)