Viewing Prophecy
| | | |
| --- | --- | --- |
| | The Judgment of the Media | Print |
Posted On March 2nd, 2017
AKA: The News Media Will Be Reshaped, The Old Guard News Media Will Fall, The News Media Will Be Shaken, Hollywood Will Be Shake
Status:
&nbspPending: 4
&nbspIn Progress: 5
&nbspPartial Fulfillment: 2
&nbspFulfilled: 3
Summary: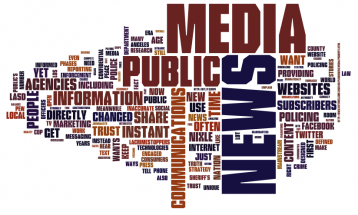 This prophecy, the way I understand it, states that in the coming years God is going to completely remake and reboot the media as a whole, most especially the Legacy News Media that has of late been caught in a huge "fake news" scandal of epic proportions. He will replace the tried and true, but clearly lying voices of the main stream media, with hand picked individuals who will report the news truthfully and the way God wants it, even reporting the news BEFORE it happens. There's also some indication that this reshaping of the media may also involve a removing of several among the old guard news agencies (ie, CNN, MSNBC, ESPN, ABC, NYT, etc) which will in turn be replaced by new media agencies who will be wholly dedicated to reporting the raw, unfettered truth. There will also be a huge remaking of Hollywood and other similar media outlets and sources.
---
(*Do you have a better description, or did you find an error?
Please let me know.
Thanks*)
Supporting Verses: None
Teachings and Explanations:

None
Source Keys:

Prophecy Type: Unknown:

Prophecy:

Vision:
Dream:

Prophecy Status:
&nbspUnknown (U)
&nbspPending (P)
&nbspIn Progress (IP)
&nbspPartial Fulfillment (PF)
&nbspFulfilled (F)
&nbspFailed (D)
Proofs and Sources: (14)

**Proofs and Fulfillments can now be found under the individual source entries above.**
Keywords: News, Media, Reboot, Remake, Old Guard, New Media, Transformation, Hollywood
Last Updated:
Monday, December 4th, 2023 at 1:42pm