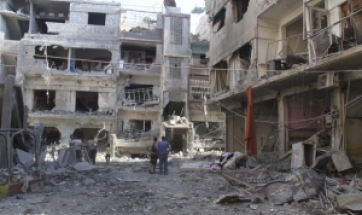 Many people, myself included, have traditionally focused on just the destruction of Damascus as prophesied in Isaiah 17:1, however the entire chapter covers a MUCH, MUCH broader series of prophecies against the ENTIRE nation of Syria. This includes cities like Aroer, Damascus (obviously), Ephraim (this is a region of cities, and not just a single one), Rephaim (again, another region within Syria) and many other cities and areas within the nation of Syria.
While admittedly only specific cities and regions are mentioned, a simple look at the map reveals that all of these lay inside of the borders of Syria. Since Aroer has officially fallen to ISIS, along with several cities within the afore mentioned regions, the fulfillment of this prophecy has already begun, and will see ultimate fulfillment in the not too distant future.
---
(*Do you have a better description, or did you find an error?
Please let me know.
Thanks*)