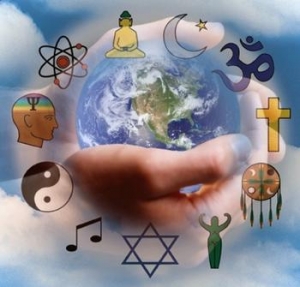 The One World Religion is an end times conglomeration of all the world's religions into one that will, at some point, be focused entirely on worshiping the AntiChrist. Currently Pope Francis is bringing together all of the world's religions, including the tree main ones, namely Islam, Christianity and Judaism, in fulfillment of this prophecy. He has even invited Protestants, Muslims and Jews to pray at the Vatican, and he has gone and prayed at the Blue Mosque. His goal is to bring all religions together as one. This is forming now but won't see its final fulfillment until the Tribulation at which point these combined religions will all have their focus turned towards worshiping the AntiChrist and ultimately the Beast, aka Lucifer himself, who desires above all else to be worshiped.
Note: While we're indeed seeing the first rumblings of this coming to pass, this prophecy will not come to complete fruition until the Tribulation. Even so, that doesn't mean we won't see the first shadows of it right now in the world as we move towards that day.
---
(*Do you have a better description, or did you find an error?
Please let me know.
Thanks*)