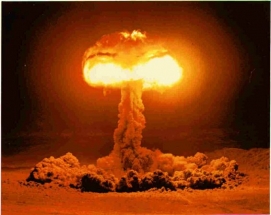 Revelation 6:4 gives a hint to this prophecy in describing who will likely be the primary user of them (the AntiChrist), and Zecheriah 14:12 gives a pretty good hint to what kind will be used, namely neutron bombs, because they very easily destroy flesh and living things, but leave the buildings and other infrastructure intact, which is the preferred end result of a war, so that you can take all the spoils that are left behind by the dead. Although, I suspect that tactical nukes will be used as well in places where it won't matter if the area is uninhabitable for decades or centuries. So, while I can say that, yes, nuclear weapons exist, this prophecy isn't completely fulfilled and won't be until the Tribulation. But at least part of it is complete.
PS: The prophecy of nukes in Babylon is actually a subset of this prophecy. That one is more focused and specific while this one is more general in nature describing the "what" as opposed to the "where".
---
(*Do you have a better description, or did you find an error?
Please let me know.
Thanks*)