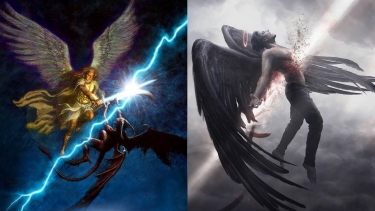 This prophecy, primarily seen in Revelation, is a multi-part event spanning numerous periods of time, and includes numerous castings out, and castings down of Satan. The first was before the Garden of Eden, then another, as some have pointed out, will occur during the events that surround The Virgin in the Sky spoken of in Revelation. Some believe this part is currently in motion right now, having started Sept 23rd, 2017, and continuing through March 3rd, 2021, a total of 1260 days. Since the book of Revelation isn't entirely chronological, that's an entirely possible fulfillment of this prophecy. At least a partial one.
The third and final fall of Satan, and casting down/out will occur when he's cast into the lake of fire for all eternity. So basically this prophecy has three fulfillments. IE, eternity past, the present era (if those who have connected Revelation 12 and the present time period are correct), and history future at the end of the Millennial kingdom, and the beginning of eternity future.
---
(*Do you have a better description, or did you find an error?
Please let me know.
Thanks*)