Viewing Prophecy
| | | |
| --- | --- | --- |
| | Five Presidents Shall Fall | Print |
Posted On October 3rd, 2018
AKA: 5 Presidents Shall Fall, The Evil Crew of 32
Status:
&nbspPending: 3
&nbspIn Progress: 3
&nbspPartial Fulfillment: 2
&nbspFulfilled: 1
Summary: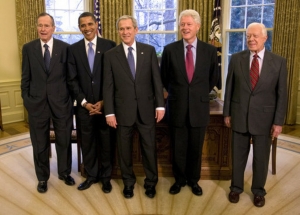 This prophecy speaks of a time when God will judge the five currently living ex-presidents (ie, Clinton, both Bush's, Obama and Carter), removing two (the theory is that they will either die, or be taken to jail for treason and other crimes), and the other three will be shaken (possible jail, removal of title of president, or merely scared into silence). The prophecy is unclear on exactly what will happen, only that something major is coming to the five currently living ex-presidents that will rock them to the core.
---
(*Do you have a better description, or did you find an error?
Please let me know.
Thanks*)
Supporting Verses: None
Teachings and Explanations:

None
Source Keys:

Prophecy Type: Unknown:

Prophecy:

Vision:
Dream:

Prophecy Status:
&nbspUnknown (U)
&nbspPending (P)
&nbspIn Progress (IP)
&nbspPartial Fulfillment (PF)
&nbspFulfilled (F)
&nbspFailed (D)
Proofs and Sources: (9)

**Proofs and Fulfillments can now be found under the individual source entries above.**
Keywords: America, President, Judgment, Punishment, Death, Fear, Evil, Corruption
Last Updated:
Monday, November 20th, 2023 at 1:40pm