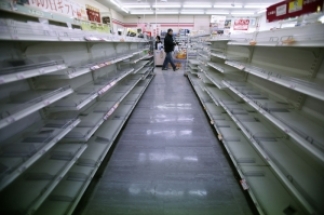 This entry covers a number of related prophecies all speaking of the same general timeframe and events, but with varying details about what will unfold, and thus the events spoken of in these prophecies (in some cases multiple similar prophecies from the same source) have been lumped together for easier tracking. This prophecy group speaks of a soon to come period of time when great famine, drought, and food scarcity will be common all across the USA. (this is a separate event from the worldwide famine spoken of in the bible) In fact, food scarcity becomes so bad that people will start to grow there own food enmasse, even in the middle of the city, and in some places residents and city officials will literally rip up the streets of the town in an effort to try and grow food.
Some of this will be caused by record high temperatures and an extreme lack of rain. This scarcity will also cause food prices to rise ridiculously high. This will lead people to start robbing food trucks (believe it or not, this has already started), forcing companies to hire armed guards to protect their vehicles (they're already proposing this!) while deliveries are being made. In some states powerful super storms will disrupt the food harvest, and in some cases outright prevent it causing food to rot in the fields because it will become impossible to harvest it.
As an interesting aside to this, this extreme drought and famine will cause an explosion in prayer across the nation not seen since its early days. Another bonus of this massive rise in prayer is that food will be miraculously given to those who are believers and request it by prayer. So you could sit down to an empty table covered in empty plates and dishes, and with a simple prayer of faith see them all filled right before your eyes. The best part of this is how delicious the food will be! Far better than anything you will ever eat while on this world!
FYI, this prophecy almost invariably complements two similar prophecies spoken of in Luke 21:11 and Revelation 6:5-8 and is almost certainly the same event, but rather viewed from a different angle.
---
(*Do you have a better description, or did you find an error?
Please let me know.
Thanks*)