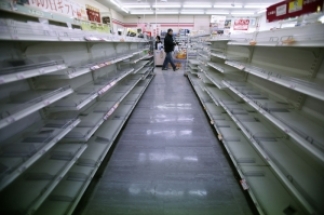 This entry covers a number of related prophecies all speaking of the same general timeframe and events, but with varying details about what will unfold, and thus the events spoken of in these prophecies (in some cases multiple similar prophecies from the same source) have been lumped together for easier tracking. This prophecy group speaks of a soon to come period of time when great famine, drought, and food scarcity, even within a land of plenty, that will be common all across the USA, and the world. (this is a separate event from the great famine of Revelations spoken of in the bible)
In fact, food scarcity becomes so bad that people will start to grow there own food enmasse, even in the middle of the city, and in some places residents and city officials will literally rip up the streets of the town in an effort to try and grow food. This famine will also set in motion the events of the judgment of the food industry and several others, as this famine will rock the world, and show the need to go back to decentralized food production, the use of classic seeds, and home gardens, and the necessity of self subsistence once again.
UPDATE (2022-03-22): I updated this prophecy description to better cover the ever growing list of prophecies being added and covered here.
---
(*Do you have a better description, or did you find an error?
Please let me know.
Thanks*)