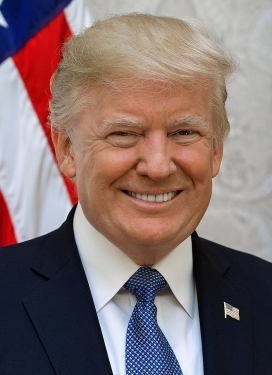 This prophecy describes a future event where Donald Trump would be elected president twice. He was elected the first time on Nov 8th, 2016, confirmed Nov 14th before congress, and then inaugurated at noon on January 20th, 2017, at which time he was sworn in as the 45th president, thus completing the fulfillment of the first half of this prophecy. Also, while this prophecy speaks of a second term for him as well, it doesn't appear that they will be consecutive terms. And I don't know if both terms will be a full four years each either (the first was, but the second may not be), as the prophecies only speak of 2 terms, but not 8 total years.
There's also a chance he may have an additional 2 years of leadership added to his presidency where he will be "appointed", but not elected, thus maintaining the validity of the "Two Terms" prophecies. Although, that being said, the prophecies don't say he'll have two terms, and only two terms. They only state that it'll be a minimum of 2 terms. So any extra time in office beyond that doesn't negate the validity of the prophecies.
---
(*Do you have a better description, or did you find an error?
Please let me know.
Thanks*)