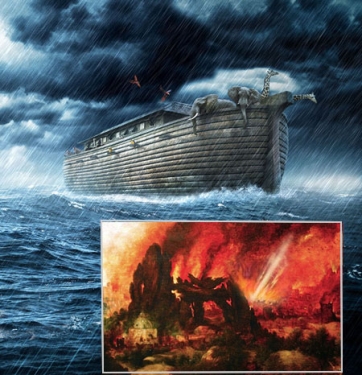 This prophecy covers the last days before the 2nd coming of Christ in more general terms. So, where other prophecies provide more specific details, this one acts as sort of a "catch-all" for events in the last days. This also covers both the Tribulation and the Pre-rapture world just prior to the return of Christ. To get the full scope of what this involves requires some research into what was happening at the time of Noah, and of Lot. But, suffice it to say, while Noah's area of concern was planetary, Lot's tended to be more localized to a specific region. Namely, the Jordan Valley where Sodom, Gomorrah and other cities resided. Even so, the level of evil that existed during their time periods was substantial and wasn't an overnight event. They started out innocent enough, but eventually grew to a level of unspeakable evil that eventually resulted in God destroying them because of their incredible wickedness.
Right now, we here on Earth, are in the pre-wrath time of Noah and Lot's "Days". So, while it's not presently as violent or immoral as the days of Noah and Lot, we're rapidly ramping up to those days when it will be. Although, we almost certainly won't see the pinnacle of that evil until after the rapture when Satan is let free on this Earth to go as wild as he wants to, with some limitations by God, of course. But, other than those, it'll be a rampage of evil and debauchery unlike anything since the days of Noah and Lot. Hence the name of the time period. This time period also shares a rather interesting detail that many overlook. The same monsters and other supernatural creatures, events and more, will also return. That includes things like the Nephalim. Remember, Noah and Lot's time there were monsters on the earth, called "Giants" in the KJV, which is the word "Nephalim" in the original Hebrew.
And that's not all we will be seeing as time goes along. There are even reports way back to the turn of the century indicating that things like this are already happening. Especially since other prophecies, such as Blasphemy, Witchcraft, Rise of Demons, Spectrophelia and others are all coming to pass before our eyes.
Edit (2021-01-14): We're deep enough down the rabbit hole that I'm considering this fulfilled. I understand that events are completed. However, enough have to make this fulfilled.
---
(*Do you have a better description, or did you find an error?
Please let me know.
Thanks*)