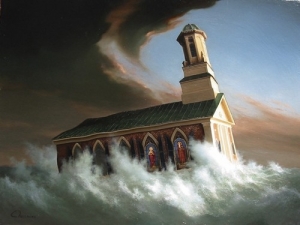 This prophecy speaks of a major shakeup coming to the Church, the Bride of Christ. It's not a "shaking" as one might typically think of as the bible says that the Church can never be shaken. What this is more speaking of is a major chastisement coming from the Lord to awaken the Church and set it on fire again through persecution, economic hardships, and other sufferings. It will take and sort out the "Men from the Boys" to use an old colloquialism. Or a separation of the "Wheat from the Tares" to use another. During this time vast amounts of hidden sexual perversion will be exposed and the numbers will be shocking.
"Church as usual" will come to an end. Church 1st Century style will become the norm again. House churches will begin to grow as a need for intimacy increases and as an answer to the rapid moral collapse and closing of many traditional houses of worship. Some churches will remain open, but will become so apostate that they will cease to be true Churches of Christ, and WILL NOT follow either the gospel, or the bible. The true Christ will be exorcised from their midst and replaced with the prosperity gospel or some new age apostate religion.
Because of this, true born again believers will flee these places and worship online, in house churches, or in small fellowship groups. During this time numerous large ministries will disband, close, or otherwise shutdown from financial difficulty. This will be caused by numerous things, including excessive taxation, fines, levies, and an implosion of giving. Prosperity Gospel churches will see massive declines in their memberships as well due to the exposing of the lies of the prosperity preachers. Persecution will also drive some churches to close their doors and go underground. And this won't be just in other nations. It's coming to America as well.
Traditional churches will see their buildings burned to the ground causing the congregations to divide up into small house churches and individual small groups. During this period of sifting, the church will go underground for a time, but will also grow and become incredibly powerful spiritually as this time of testing will bring about a massive outpouring of the Holy Spirit.
---
(*Do you have a better description, or did you find an error?
Please let me know.
Thanks*)