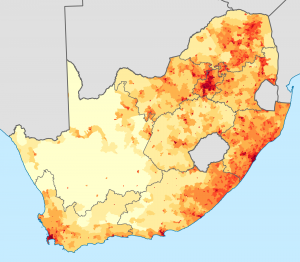 This prophecy speaks of a coming judgment on South Africa in the form of a tsunami that will strike the nation and go inland some distance before stopping. It's been listed as being meant as judgment against the nation for rampant sins and all forms of immorality. From the reading of the only known prophecy given on this so far it appears to be a conditional prophecy, meaning that if the nation undergoes sufficient repentance the judgment will be withheld. If not, it will happen. Given the location of South Africa, and its distance from all likely tsunami sources in the North Atlantic (ref East Coast Super Tsunami and Meteor Destruction of America prophecies), this will almost invariably be caused by an event in the South Atlantic, Antarctic Sea or Indian Ocean.
Presently there are three major faults surrounding South Africa. One in the South Atlantic (Southern Mid-Atlantic Ridge), one to the south (SW Indian Ocean Ridge) and one to the east (SE Indian Ocean Ridge), all of which are capable of producing quakes in excess of 9.0, although they have been relatively quiet in recent years. So there are three possible locations for this tsunami to come from, all of which are valid sources. So this prophecy already has some weight and validity behind it, even though I'm not yet certain of the originating prophetical source.
---
(*Do you have a better description, or did you find an error?
Please let me know.
Thanks*)