Viewing Prophecy
| | | |
| --- | --- | --- |
| | The Downfall of Obama | Print |
Posted On November 14th, 2018
AKA:
Status:
In Progress

Summary: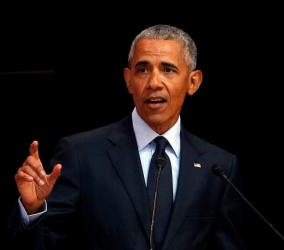 This prophecy talks about how God will neuter (IE hinder) Obama (the sitting president at the time of the prophecy, but now "former" president) and will eventually bring him down. There's even talk of him going to jail, being charged with treason, and even being stripped of the presidency. (You can lose and be stripped of the title of president if you are charged with treason, so that's entirely possible still even if he's out of office)
---
(*Do you have a better description, or did you find an error?
Please let me know.
Thanks*)
Supporting Verses: None
Teachings and Explanations:

None
Sources:

Proofs and Fulfillments: (96)

Keywords: God, Obama, Trump, Hinder, Block, Prevent, Government, Clean Up, Drain The Swamp
Last Updated:
Tuesday, March 30th, 2021 at 7:15pm