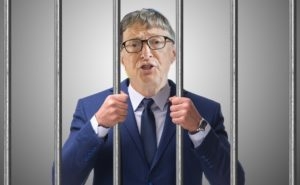 The summary of this prophecy is that, in a near future time, Bill Gates (of Microsoft Fame) will be arrested, tried, and punished by numerous nations for his numerous crimes. While this prophecy might seem to run contrary to the Bill Gates Will Create Financial Prosperity prophecy, we don't have the full picture yet, so we don't know if these will run in conjunction with each other, if this will lead to a turning of Bill Gates, or if maybe his arrest will lead to financial prosperity by removing him from the scene, allowing others to prosper where they can't right now because he's still free. So we will need to be patient and see how these two play out.
One other thing to take note of. While this prophecy is specific about Bill Gates of Microsoft, with the other prophecy, that's only assumed, and there are clues it might be talking about a different Bill Gates, as was demonstrated in a video about a gentleman who has a similar name, and whose nickname is "Bill Gates". So don't just write off either prophecy until you see everything play out.
---
(*Do you have a better description, or did you find an error?
Please let me know.
Thanks*)