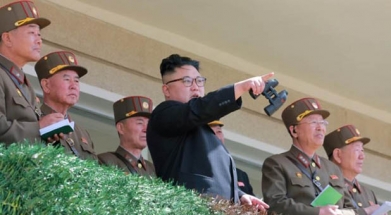 This prophecy speaks of a future time when North Korea will be defeated, and both Koreas will become one united nation, just like it was prior to WW2. In the process Kim Jong Un, the current leader of North Korea, will be soundly defeated, deposed and removed, and the tyranny of the nation will be wiped away. In turn the new unified nation will become a bastion for the Gospel.
Edit (2020-02-05): I'm making a change in position on this prophecy. Before I felt it was on shaky ground, given how events were going. However, "defeat" in this case doesn't always mean military defeat. It can be political, and it can mean other things, The "madman" spoken of may also NOT be Kim Jong Un. The more I'm learning, the more I'm discovering that there may be a hostile 3rd party behind all this that is the actual "madman", and the gentling of North Korea might be the "defeat" that's specified. But we'll have to see. Even so, this is now going to be set to in progress until I see something that tell me this will unfold differently than mentioned.
---
(*Do you have a better description, or did you find an error?
Please let me know.
Thanks*)