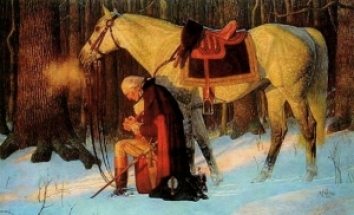 This is apparently a little known prophecy, said to have come as a three part vision to George Washington at Valley Forge during the civil war telling the future of America. It's claimed that two of the three parts, predictions of the Revolutionary and Civil Wars, has already come to pass with a third part still to come. Based on what little information I could find, the third sounds as though it's either related to, or another version of the prophecy of the coming invasion of America prophecy. Given Washington's connection with the Masons, and the wording of the prophecy (ie, a "female" angel presenting the prophecy when no such being exists), I don't take much stock in the validity of this prophesy.
EDIT (2015-07-09): As of today I am marking this as debunked as world events and bible scriptures I have come across since entering this prophecy have rendered it invalid and false. While parts of it are likely to be true, the majority of it is incorrect or false, thus making it a false prophecy. The female angel also makes this invalid and unbiblical as there are no female angels.
---
(*Do you have a better description, or did you find an error?
Please let me know.
Thanks*)