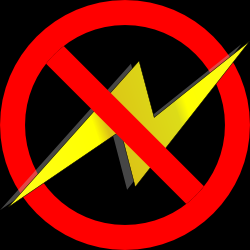 This prophecy details a major power outage, either regional or nationwide, caused by a hacking attack against the control systems that maintain our power grid, originating from unknown, possibly hostile sources. During this time the grid is likely to go up and down multiple times while they try to stop, mediate and then recover from this attack. The event has been described as being highly dynamic with some outages up to lasting weeks at a time. There are also hints that this may occur over the winter months, although that's not set in stone as being the timeframe when this will occur.
But regardless of when this happens, it's almost certainly guaranteed to occur at a time when such an event will create maximum impact for the attackers. It would also cause a significant economic impact. During this time period most cities will devolve into total panic, darkness, riots, starvation and a lot of other terrifying things that are the consequences of the outages caused by the attack. As a small aside, while not an actual prophetical source, Hollywood's portrayal of this event, as seen in "American Blackout" (see teachings section for link to view this episode), lays out in terrifying detail what a cyber attack on the grid might look like and the reality of it, including the riots, starvation, etc as mentioned above.
Another thing to understand is that this prophecy may also coincide with other bigger events, such as the Ezekiel 38 war, WW3, the global economic collapse, or others like them which would in turn make this issue all that much worse. However, it's most likely to simply be a stand alone event. However, only time will tell.
EDIT (2016-01-11): I'm updating this to partial fulfillment due to both the generality of two of the prophetic sources as to "who" will get hacked, and the fact that the Ukrainian grid got hacked and shut down in much the same way as was predicted.
---
(*Do you have a better description, or did you find an error?
Please let me know.
Thanks*)