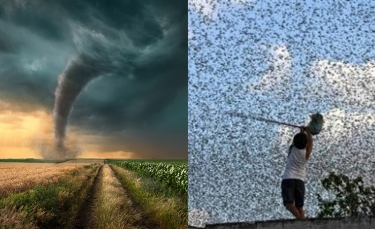 The summary of this sign prophecy is as follows: There will be 3 literal tornadoes that will strike Atlanta, Georgia. The Williamson Heights subdivision will somehow be involved with this. There will be a figurative whirlwind (re: judgment, punishment, etc for crimes recently committed, voter fraud possibly, but definitely judgment) that will hit this area, but also apparently three literal ones as well. He also mentions more about the figurative whirlwind in the Arizona capital, and the judgment of the corrupt that are in that state. Many will be arrested and brought to justice.
This is meant to confirm a previous dream about a figurative whirlwind of judgment that will be, and presently is, moving through our government to bring judgment to the corrupt and the wicked, and set the nation, and the world, back on course for God in these last times through an awakening and revival. As a point of reference, this was given to Timothy Dixon on March 6th, 2021. Another judgment he mentions, that will also be a swarm of flies that will hit California. This will be both a sign of the judgment coming against their evil leaders (ala the plagues of Moses). They're going to only hit specific areas, but not every area.
The flies are also going to hit Washington, DC at some point too. However, just like in California, they will be held in one particular area, and they won't spread out beyond that area. This will be a sign from God to show His hand and His power to the nation's leaders. These signs, given in this prophecy, are related to the Arrest and Removal of the Corrupt, and the Pretribulation Revival prophecies.
---
(*Do you have a better description, or did you find an error?
Please let me know.
Thanks*)