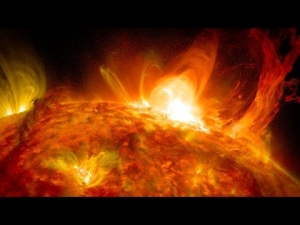 This prophecy tells of a time when major solar storms hit the world, causing all kinds of havoc. Some have stated that it will knock planes out of the air, or blind them, it'll wreck our satellites knocking them out of orbit, or disabling out GPS and other essential services, communications, etc. It could even knock out the power grid and do other CME/EMP like damage to electronics and infrastructure around the world. Some of the sources listed here are conditional, and depend entirely on the spiritual state of the nation, and the world. If we turn back to God, this will not happen. If not, it will, and it'd be allowed primarily to get people to turn back to God. Some others are either signs that God is moving in a particular way, or judgments against the wicked and evil rulers of this world.
EDIT (2022-02-10): Updated the description to cover the growingly broader list of similar solar tsunami events, both big and small, and their varied outcomes, and purposes.
---
(*Do you have a better description, or did you find an error?
Please let me know.
Thanks*)